Our Hotel and Restaurant AlpenSonne is a cosy holiday hotel in Ruhpolding in the furthest south-east corner of Germany. We offer our guests a cordial and warm welcome to this typical Bavarian 3-Star Superior hotel. Managed by us – the Nakoff family – this hotel is waiting for you with a personal touch and informal, cosy comfort. A holiday in Ruhpolding offers our guests a stay full of comfort and indulgence. The hotel offers our guests many wonderful moments and the best possible relaxation with its own swimming pool, sauna and wellness.
We're looking forward to seeing you!
Yours, the Nakoff Family & the AlpenSonne Team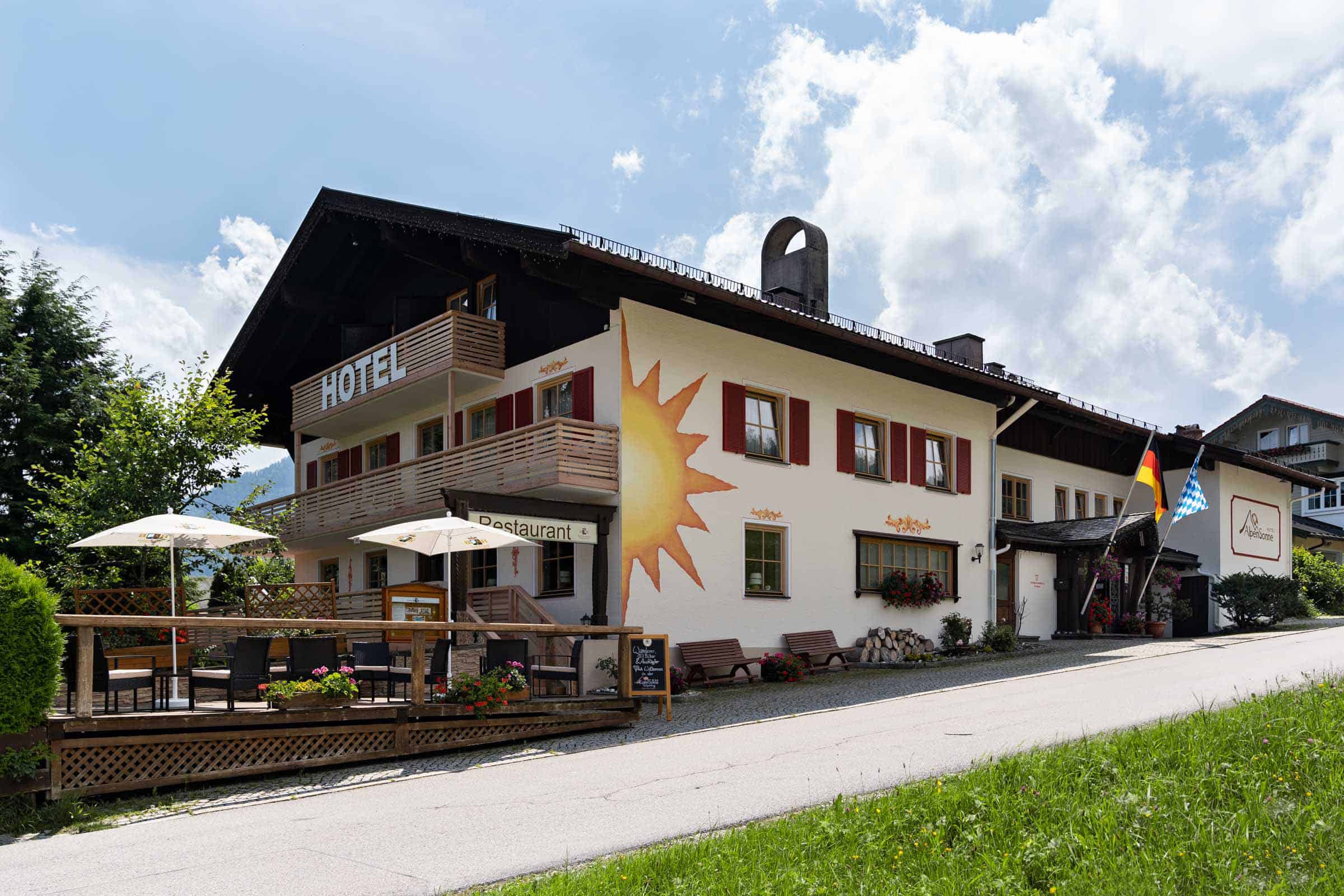 Our rooms are comfortably equipped and furnished in a rustic style. Here our guests can find everything they need for a lovely holiday.
In our convivial lounge and restaurant, we serve classics of Bavarian country cooking. And we also always spice up the menu with some inventive little treats in our house style.
Relaxation is a top priority in the Hotel AlpenSonne! Look forward to our own wellness area with a sauna and swimming pool.
From 399.00 € per person per week
Al
p

en­Sonne all-inclusive
7 nights bookable:
02.01.2022 – 10.01.2022
18.01.2022 – 06.03.2022
16.05.2022 – 23.10.2022
From 319.00 € per person per week
Easter/ Spring/ Autumn ­
a

ll-inclusive
7 nights bookable:
18.01.2022 – 28.01.2022
06.03.2022 – 14.05.2022
07.10.2022 – 23.10.2022
Photo © Chiemgau Tourismus e.V.
Photo © Chiemgau Tourismus e.V.
The Chiemgau is a true paradise for sport lovers in all disciplines. Swimming, sailing, skiing, mountain biking or climbing, the range on offer is extensive!
Photo © Chiemgau Tourismus e.V.
The beautiful world of nature at the foot of the Chiemgau Alps welcomes its visitors with uniquely wonderful impressions.
Photo © Chiemgau Tourismus e.V.
All over the world, the architecture, art and customs of the Alpine region are valued. The people in the Chiemgau are well aware of this and keep the culture of their region alive.
Hello dear Nakoff family, we would like to thank you once again for our wonderful holiday, for the fantastic room, the fabulous food and the friendly service (Ardiane and Patrizia), who never left us high and dry in the bar. Thanks also to Granny Kathrin, who always gave us a friendly welcome at breakfast time. Kind regards, Stefan, Andrea, Florian and Anja
Dear Nakoff family and employees, we would like to thank you again for the wonderful and delightful days that we were able to spend in your house. And best of all, exercise in the open air and intensive use of the lovely swimming pool meant that the scales show no effects of the 30 courses from the evening menu that we enjoyed. We loved everything about our holiday and the week seemed to fly past, but we are definitely coming back. Kind regards, Hella and Jakob Köllisch P.S.: to Ardiana Watch out for the glasses when the male guests are "making eyes" at you! 🙂